Strategic Purchaser
We are seeking a dynamic and motivated individual to join our team as an Strategic Purchaser.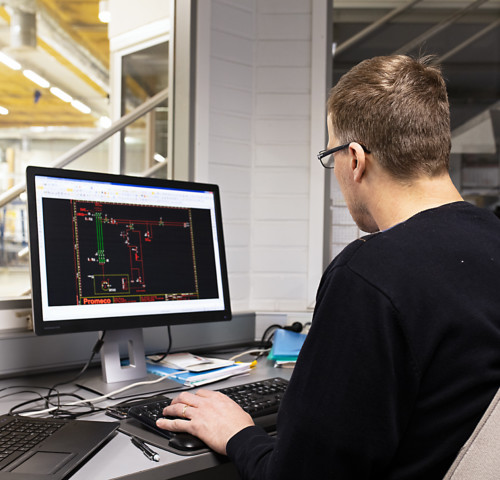 We are a contract manufacturer of high-quality systems and electromechanical services for leading brands. With over 40 years of experience in the market, we remain a family-owned business, placing customer satisfaction as our top priority. Our units operate in Finland and Poland.

Currently, we are seeking a dynamic and motivated individual to join our team as an Strategic Purchaser. Join our team and experience a employee-centered work culture!
Are you looking for a work environment where your ideas are valued, your growth is nurtured, and your voice is heard? Look no further! We are a company committed to providing a employee-centered work culture that prioritizes your professional development and overall well-being.
Responsibilities
ensuring a supplier base that enables the appropriate availability of materials in production units in the right quality, delivered at the right time, and at the right cost
ensuring utilization of full purchasing power and supply knowledge of Promeco Group,
maintaining supplier cooperation and relationships,
strategic development and risk management of the supplier base,
monitoring supplier performance and initiating necessary corrective measures together with supplier development,
sourcing and onboarding new suppliers,
conducting contract and price negotiations,
handling escalated problem solving related to suppliers,
maintaining supplier data in systems,
ensuring information sharing, managing changes and developing smooth cooperation with internal interfaces, particularly sales and production.
Requirements:
proficiency in purchasing and sourcing processes,
experience in the industrial sector, preferably knowledge of manufacturing of metal constructions and parts,
commercial or technical degree,
strong negotiation skills and ability to build and maintain supplier relationships,
analytical mindset with the ability to extract significant information,
understanding of total cost analysis,
good knowledge of the English language,
good knowledge of MS Excel,
familiarity with office tools and ERP systems
systematic and detail-oriented approach,
proactive, responsible, and effective in problem-solving,
continuous improvement mindset,
strong collaboration and communication skills.
We offer:
stable employment in a company with well-established position on the market, which is a leader in the maritime, energy, railway and industrial machinery sectors,
collaborative Environment: We foster a culture that encourages collaboration, teamwork, and open communication. Your input and ideas will be actively sought and appreciated,
Work-Life Balance: We understand the importance of maintaining a healthy work-life balance. Our flexible work arrangements and supportive policies enable you to manage your personal and professional commitments effectively,
inclusive Culture: We embrace diversity and strive to create an inclusive workplace where everyone feels valued and respected. We celebrate individual differences and promote equal opportunities for all,
well-being: Your well-being matters to us. We promote a healthy and positive work environment,
possibility of development within organizational structures,
participation in the development of standards within the organization,
opportunity to develop technical language skills,
If you are a motivated professional with experience in operative purchasing, we invite you to join our team at Promeco Sp.zo.o. and contribute to our continued success.
To apply, please send your resume to rekrutacja@promeco.pl We look forward to receiving your application!
We kindly inform you that we will only be able to contact selected candidates.
The application period ended. Visit our careers page to see other open positions.