Promeco and Winnova's apprenticeship provides a practical fast track for a new profession and skilled employees for the company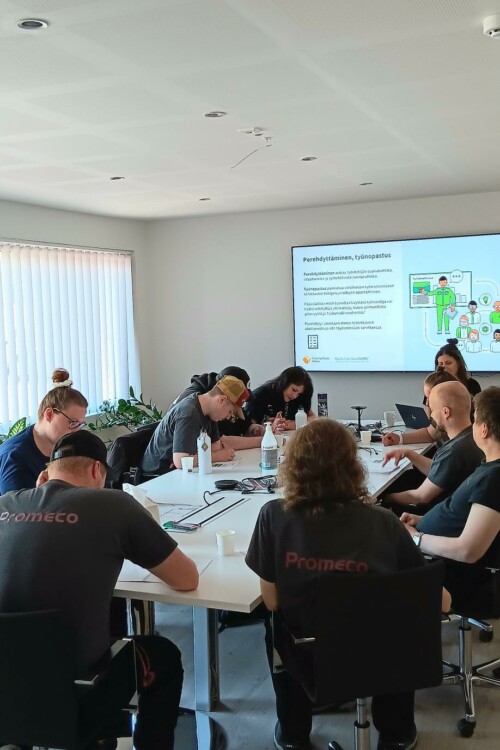 The first joint apprenticeship program between Rauma-based vocational college Winnova and Promeco started at Promeco's Pansia factory in Kankaanpää at the beginning of May and will last for a total of six months. This 15-credit program is a part of studies leading to a degree called Switchgear Installer's Vocational Qualification. From the very beginning, the studies consist of practical work at the factory together with theoretical studies in the basics of electromechanics that prepare for the work. The program will finish with an examination in the form of a work demonstration at the factory. Winnova has been responsible for the theoretical basics and Promeco for on-the-job learning and the materials guiding it. Promeco has a continuous open call for vacancies, which can also be applied for without any previous background. However, apprenticeship training differs from the normal process of learning a new job due to its theoretical training and because it contributes to a curriculum leading to a vocational qualification.
New beginnings
A total of 7 Winnova students are participating in the program. One of them is Jelena Salonen, who a nursing assistant with 12 years of experience in the healthcare field. After a long career in nursing, the thought of changing careers started simmering in her mind, as Salonen felt she was no longer able to do her work according to her values, despite enjoying the nursing itself. The goal became to try something totally different, where you could acquire a qualification and employment relatively quickly. While browsing, Jelena came across Promeco's job announcement on a recruitment website and submitted an application, after which she was contacted about the apprenticeship that was about to start. Jelena decided to seize the opportunity, despite an unknow field and Promeco being familiar to her only by its name. Now Jelena works with logistics and receiving goods. At the time of the interview, learning coupling was also in the planning.
Teemu Virtanen is another apprentice of the group and a new face in Kankaanpää. Virtanen is originally from Seinäjoki, but moved to Kankaanpää for the apprenticeship and the employment opportunity it brings. Teemu already had some previous expertise in the electrical field due to his previous vocational degree in electrics and automation. In addition, he had experience working in a truck trailer manufacturing company and in element installation. Like Jelena, also Teemu stumbled upon the programme through a recruitment site. Promeco was not familiar to him, but he found the opportunity to develop his own professional skills appealing. Teemu also saw the short duration of the apprenticeship and the possibility to work normally meanwhile as an advantage. The bar to change careers as an adult is often higher, as most don't have the resources to dive into years of studying later in life, to which an apprenticeship offers a practical solution. Due to his previous knowledge in electrical field, Teemu works on the projects unit in Pansia, where more challenging concepts are implemented. He has already been able to utilise his previous experience and also to learn new things, such as rail joints technique. As a new resident of Kankaanpää, Teemu has been surprised by the liveliness of the city; Sometimes there seems to be even more movement and traffic than in Seinäjoki!
Attitude matters
Asko Kuusijoensuu from Promeco, who works as a supervisor in the project training, says that there were many great applicants to choose from. The paperwork and pre-filtering of the application process were carried out by Promeco's recruitment partner Innolink Staff, after which the final applicants were interviewed and selected by Promeco. "Previous knowledge of the industry was not required, as the choices were primarily based on attitude and motivation," Kuusijoensuu shines a light on the recruitment reasoning. According to him, for example in Teemu's case his electrical background was beneficial, but the interviewers were particularly impressed by his readiness to relocate to a new city. For Jelena, on the other hand, the motivation was indicated by her willingness to jump into a completely new field after a stable career of 12 years. In total, the application process took only a couple of weeks, resulting in quick feedback for the applicants. 'The choices were clearly right, as it has been easy to work with everyone in the group. Everything has gone smoothly and the agreed things have been kept,' Kuusijoensuu acknowledges the students.
Reaching the flow in a well-functioning working environment
According to both students, so far the best thing about the training has been the good atmosphere at the factory and the pleasant workspaces. As a complete newcomer to the field, Jelena had no expectations of the job, so there have been no surprises either. "At most, the only surprising thing has been how much I enjoy my work. Often at the end of the day I wonder how come it's already coming to an end!", Jelena laughs. In her opinion, the best thing about the work is the clear rhythm of the day, and that if there's any remaining open issues, they are come back to and being solved.
Teemu agrees that all the essentials are in good shape, he has been especially pleased with the exquisite tools and having his own parking space. However, there is also some room for improvement: the otherwise excellent tools could return to their correct places more efficiently. Teemu was surprised by Promeco's modern and well-functioning workspaces, as previously working in factory environments the indoor air was often stuffy. Director Kuusijoensuu confirms that the working environment is constantly being worked on: "The renovations started in 2017, further updating and maintenance being a continuous process. It has been a conscious choice to invest in good indoor air and lighting, which, if poorly managed, cause headaches, among other things."
Successful cooperation through experience, while learning new things
Promeco has organised apprenticeship trainings for a long time, previously partnering with Sataedu Vocational College. Now exploring the cooperation with Winnova as a new partner, the experience has been positive. With a 17-year Promeco background, Kuusijoensuu is involved as an apprenticeship instructor for the first time and is very satisfied with Winnova's way of working: "Winnova's teacher in charge has guided us well with this new educational cooperation and gone through teaching materials with us. I have been able to learn a lot myself too," Kuusijoensuu says and continues: "In the future, it would be great to be even more actively involved, in addition to which the materials from our side should be increased and developed." The only challenge in the training programme has been its timing, as due to the summer holiday season, for example, things have sometimes had to been managed in a hurry. However, the mindset has been to provide the students a peaceful learning space and to guarantee the quality of learning despite the rush. According to Jelena and Teemu, this goal has been achieved, as they haven't sensed any pressure. Nevertheless, the hecticness has been seen as confirmation that there is indeed the need for more working hands, the demand aimed to be spot-on targeted with measures such as the on-going apprenticeship collaboration.
Winnova's professional guidance is based on solid experience in recruitment training, as the vocational college has arranged similar trainings also for other switchboard manufacturers. As a rule, the curricula are tailored according to the needs of the company and the degree programme. Students can take advantage of these practical working-studies when completing vocational basic level or specialising electrical qualifications. The continuation of future co-operative training is still open, but going forward, theoretical studies could possibly be carried out partially in Winnova's own premises that are designed to enhance studying.
A career path suitable for everyone
To whom would Jelena and Teemu recommend the apprenticeship training? Basically for anyone who has any kind of interest in the field and the willingness to learn new things, the students summarise. Kuusijoensuu confirms that the field and the learning model are suitable for everyone: "Learning is flexible and tasks can be adapted according to the employee's needs, for example, physical limitations are taken into account. The practical work and the training model are suitable for anyone, who is motivated and has the right attitude, learning the work itself is guaranteed!"