Employee stories
Antti – A new task awaits as welding coordinator
Name: Antti KortesojaTitle: TraineeSuperpower: TranquilityEducation: Information and Communication Technology EngineerHow long have you been working here: Since 2006 Antti Kortesoja has worked at Promeco both as an installer and foreman.…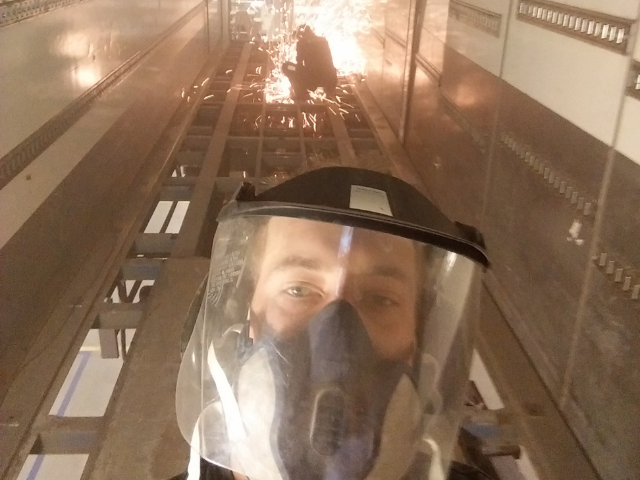 Name: Antti Kortesoja
Title: Trainee
Superpower: Tranquility
Education: Information and Communication Technology Engineer
How long have you been working here: Since 2006
Antti Kortesoja has worked at Promeco both as an installer and foreman. He is currently studying welding engineering and doing his internship at Promeco.
Antti Kortesoja followed his father's footsteps to Promeco. The young man started working as a switchgear installer already in high school. He spent all his holidays and free time at work, but the work was nice, and as a student, he appreciated the extra money.
Antti's team assembled electrical substations for Promeco's customers as subcontracting work. Antti enjoyed working with his hands, but after the army, he went to study information technology engineering. However, work took up his time and motivation, and he didn't have time to graduate at that stage. He has worked at Promeco full time since 2014.
– This has always been an excellent job for me. I have been able to do a wide range of tasks and have been given a great deal of responsibility. The working community is pleasant, and the atmosphere operational. It's always nice to come to work.
A new task awaits as

welding coordinator
Antti progressed from a switchgear installer to work as a foreman for his team. At its best, the department had 30 employees. There was plenty of work, and Antti got a lot of responsibility. Supervisors took note of Antti's motivation and last year they suggested him a new position. Promeco's current welding coordinator will retire soon, and supervisors hoped that Antti could be his successor. Antti was admitted to the Lappeenranta University of Technology to start a training in welding engineering.
– I have now studied welding in depth. The training is engaging, and it is nice to practice new skills here in the workplace under the guidance of an experienced professional, Antti says.
Officially, Antti currently works as an intern at Promeco. He follows the work of the current welding coordinator and learns new tasks as they come up. The welding coordinator is responsible for the welding quality of the entire company. He makes sure that the work is carried out in accordance with the requirements, that the welders have the necessary qualifications and that the welding instructions cover the areas of competence required by the products. When a new product is introduced, the welding coordinator assesses whether Promeco's ability to weld it to all standards is sufficient or whether additional training is needed.
– I enjoy myself here at Promeco because the work is diverse, and there's just enough challenge. I find new things to learn every day. I also appreciate that my supervisors trust me and give me responsibility. It's really motivating to learn new things all the time and apply what you've learned in school.
Antti recommends Promeco as a workplace for everyone interested in the industry.
– You don't necessarily have to be a ready-made professional because there are many types of work available. You can come to work from many different backgrounds as you learn best by doing. The employer is also very flexible and allows you to study alongside your work. Personally, I completed my old degree in Information and Communication Technology Engineering while doing my primary studies and internship simultaneously.