Employee stories
From Electrical Technician to Mechanical Supervisor: Damian's Inspiring Career Journey at Promeco
Meet Damian, an ambitious individual from our Strzebielino unit, who embarked on an extraordinary career path at Promeco. Damian's journey from a technical secondary school graduate to becoming the Mechanical…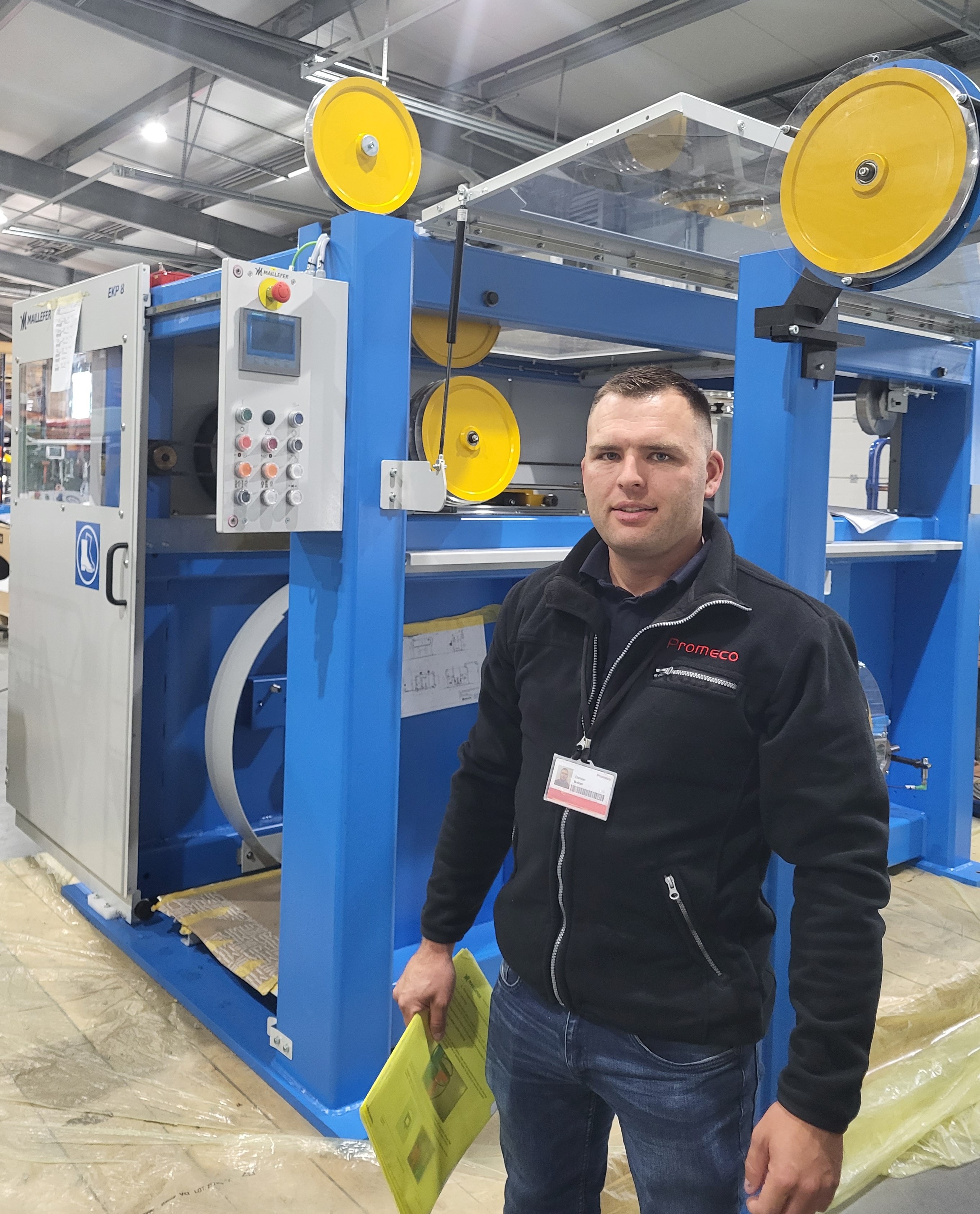 Meet Damian, an ambitious individual from our Strzebielino unit, who embarked on an extraordinary career path at Promeco. Damian's journey from a technical secondary school graduate to becoming the Mechanical Supervisor at Promeco's Strzebielino branch is a testament to his determination and the opportunities offered by the company for career growth and development.
Unexpected Beginnings
Damian's story with Promeco began by a lucky coincidence. While job hunting in the area, he stumbled upon the company's premises and was impressed by the pleasant surroundings and the good order of things. Deciding to take a chance but not having high expectations, Damian submitted his CV in case there was something suitable for his background. To his surprise, Damian was offered a recruitment opportunity as an Electrician-Assembler, [ŻP1] but for the company's branch in Finland. Embracing the challenge, Damian successfully went through the recruitment process and embarked on his journey with Promeco.
Embracing Opportunities
Upon joining the Finnish branch in Kankaanpää, Damian was fascinated by Promeco's meticulous ways of working and commitment to Lean Management principles, including the 5S tool system. The great working conditions paved the ground for Damian to excel in his role.
After one year of exploring the Finnish working culture, Damian got a chance to return to his homeland, where he continued working as a Electrician – Assembler in Promeco's Gościcino unit. He was pleased to notice that things were run with the same precision in Poland as in Finland. As an individual passionate about mechanics, Damian soon transitioned to the mechanical department, taking up the position of Mechanic-Assembler. This transition allowed him to explore his interests and succeed in a field he deeply enjoyed.
Climbing the Ladder
Recognizing Damian's potential, the company offered him various opportunities for growth. Within a short period, he was promoted to the Leader of the Mechanical Department. This promotion not only allowed him to showcase his skills but also offered him the chance to travel on service missions to different countries, such as India and Oman, broadening his horizons and experiences.
Returning to Promeco
Although Damian spent a brief period of 10 months working elsewhere, he always cherished his good experience with Promeco. When the second branch opened in Strzebielino, he knew it was time to return and seize the offered opportunity to manage this new branch. With enthusiasm and determination, Damian took on the responsibility as the Supervisor of the Mechanical Department in Strzebielino.
A Day in Damian's Life
As the Mechanical Supervisor, Damian's typical workday begins with morning production meetings where ongoing production-related topics are discussed. Throughout his day, he collaborates with production workers, engineers, and production planners to ensure everything adheres to the production plan. Damian's role involves making quick and accurate decisions, utilizing his creativity, communication skills, and analytical thinking to tackle challenges efficiently.
Keys to Success
The position of Mechanical Supervisor demands technical knowledge of machine construction and the ability to understand technical drawings. Moreover, Damian's success is also attributed to his soft skills, including his decisive nature and effective communication. Multitasking proves to be another valuable skill that assists him in efficiently managing his responsibilities.
Passions Beyond Work
Outside of his professional life, Damian's heart lies in automotive and tinkering. He inherited this passion from his father, and it is something he now shares with his son. Another related hobby, riding quad-vehicles and motorcycles, is also a way for him to enjoy his free time and recharge his batteries.
Lessons worth passing on
Throughout his nine-year-journey at Promeco, Damian has learned valuable lessons. His motto is "Never give up, always strive for your goals and pursue your passions." By his example, Damian encourages others to embrace their passions, stay determined and to seize every opportunity for development.
Damian's journey from an Electrical Technician to the Mechanical Supervisor exemplifies the value of committing to nurturing talent and motivation by providing opportunities for growth. With dedication from employees such as Damian and Promeco's supportive environment, the future holds boundless possibilities for both our people and the company itself.